Brett Marcoux Announced as Recipient of the STA Omnitracs Service to Industry Award
Oct 23, 2023
The STA Omnitracs Service to Industry Award recognizes leaders who have made exceptional contributions to the trucking industry in Saskatchewan. It awarded to individuals who have spent countless decades in the industry and assisted in propelling Saskatchewan's trucking industry forward.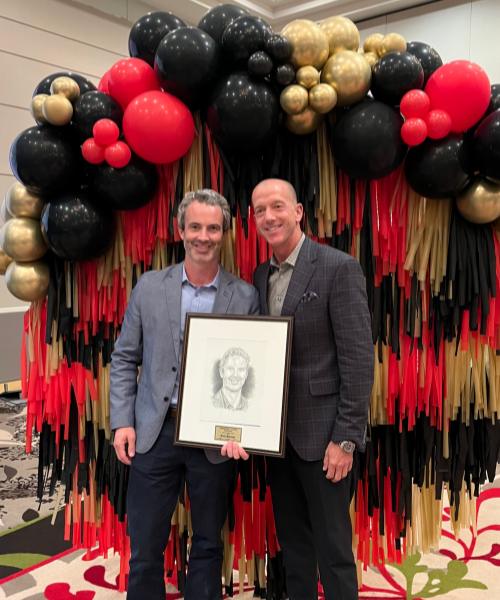 We are pleased to announce Brett Marcoux as the 2022/2023 recipient of the Service to Industry Award.
Brett's career began in the early 90's, as a student working in the shop washing trucks at Yanke. In 2004 he embarked on a new chapter, taking the reins of Aero/Fresh Pack. Since then, he has not only been a driver of change, but a visionary leader who has transformed the dynamics of the Saskatchewan supply chain.
One of Brett's outstanding contributions lies in his investments in the province – recognizing the need for modernization and expansion in temperature-controlled storage facilities, he created a successful model that benefits not only his companies but the entire industry. His influence extends beyond the confines of his own businesses as he has played a pivotal role in helping local and national companies understand the advantages of Saskatchewan as a logical location for distribution.
A turning point in Brett Marcoux's career came when he was recognized by "Today's Trucking" as an industry up-and-comer under the "Top 40 under 40" category. This acknowledgment highlighted his dedication, innovation, and leadership in the industry. It foreshadowed the exceptional contributions that were yet to come. Marcoux's passion for the industry and his innovative thinking set him on a path to success that continues to inspire others in the field.
Congratulations to Brett Marcoux - 2022/2023 STA Omnitracs Service to Industry Award Recipient.
STA Sponsorship and Advertising
Get Involved!
Sponsorship Ignites Events and Programs. Join the Momentum and Invest!