Women Shifting Gears
The Saskatchewan Trucking Association has partnered with the YWCA Saskatoon and the Saskatchewan Ministry of Immigration and Career Training for a pilot-program named Women Shifting Gears.
History
Saskatchewan has always been a trucking province. It plays a critical role in everyone's lives—from the fuel in your vehicle to the food in your fridge, a truck was essential in delivering it. In our landlocked province of 26,250 km of highways, trucking makes our imports and exports possible and creates thousands of jobs for the residents of Saskatchewan, hauling a variety of products from agriculture products to food and consumer goods like televisions, clothes, and pet supplies.
Women Shifting Gears emerges from a place of need.
Today, we know that in Canada, only 3.5% of transport truck drivers in Canada are female. Although we are seeing more women enter the industry to great success, the Saskatchewan Trucking Association identified an opportunity to help women receive the appropriate training needed to become a transport truck driver.
After nearly one year of work with our outstanding partners at the YWCA of Saskatoon and the Ministry of Immigration and Career Training, we are happy to launch our initial pilot program, Women Shifting Gears.
Become a Class 1A Professional Truck Transport Driver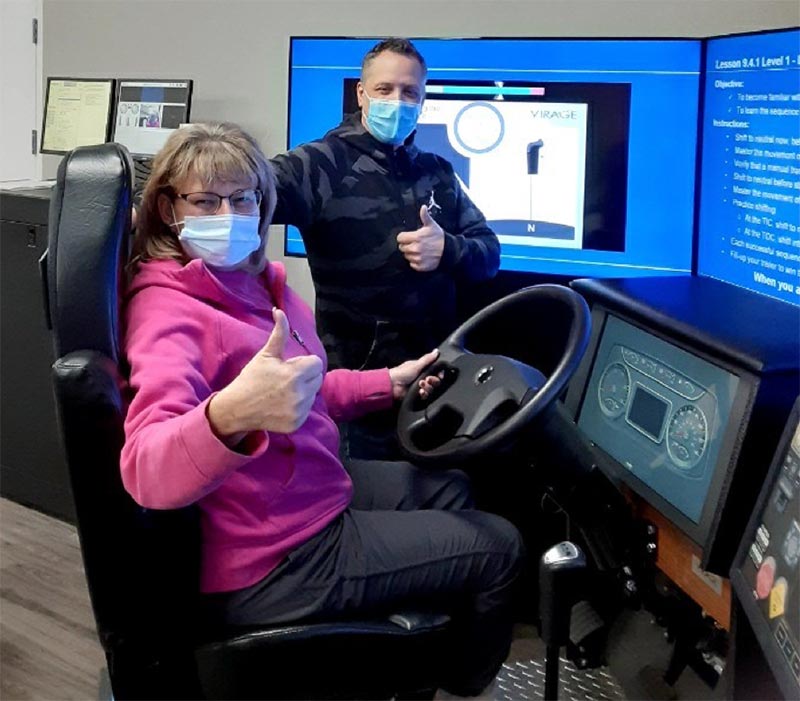 Women Shifting Gears is a unique, three-phased program designed to empower women and develop their skills to enter the transportation industry as a Class 1A Professional Truck Transport Driver.
Phase 1 - Pre-Employment
Phase one is nine weeks of pre-employment training at the Saskatoon YWCA.
Within this phase, trainees will cover key components within the industry, such as safety, health and wellness, and employability skills.
Phase 2 - Work Placement
In the second phase, trainees will be matched up to a local trucking employer for a three-week work placement.
It is expected that following phase two, trainees will receive either a work offer or a conditional offer which will lead to phase three.
Phase 3 - Driver Training
In phase three, the trainees will receive 1A Driver Training through the Mandatory Entry-Level Training program for Level 1A Drivers.
A provincial training allowance is available for trainees. With no restraints. Your new dream career awaits!
Program Details
Where? The first phase of programming will take place at the YWCA in Saskatoon. The location of phases 2 and 3 are subject to placement.
When? Programming begins November 2nd, 2020 and extends until February 28th, 2021. All trainees are required to commit at least 30 hours, per week, to the program.
Who? You! We are looking for strong, passionate women within our community who want to find employment and make waves within the transportation industry!
If you:
have a positive attitude,
have excellent customer service skills,
are physically fit,
have mechanical abilities,
and hold a valid, experienced Class 5 Drivers License with a clean driver's abstract
Then the Women Shifting Gears program might be for you.
Western Canada Highway News
Fall 2021 Issue
Read articles and keep up-to-date about the trucking industry across Western Canada and beyond.