Careers in Trucking
Are you considering a career in the trucking industry? Discover the opportunities, job descriptions and compensation of various roles in our industry.
Exciting and Rewarding Careers
Saskatchewan is actively seeking experience and dedicated drivers – yet driving is just one of the many career avenues within our industry. A wide array of fulfilling and demanding career options await individuals in the transportation and logistics sector.
Ready to get started?
Explore our Job Board for current opportunities.
Also known as Commercial Vehicle Operator
Entry-level Truck Driver: Average salary of $18.75/hour
Truck Driver: Average salary of $24.00/hour
Long Haul: Average salary of $26.97/hour
Estimated Wage in Saskatchewan: Average salary of $27.29/hour
Owner-operator: Average salary of $113,000 per year
Truck drivers play a vital role in transporting goods across various distances, from local routes to international journeys throughout North America. They are essential in ensuring that everything from the food in your fridge to the device you are using right now reaches your hands.
Long-Haul Truck Driver: Long-haul drivers venture beyond their city, province, or even country. Their responsibilities include planning trip logistics, maintaining necessary documentation, conducting thorough vehicle inspections, securing cargo, and obtaining permits for international transport.
Short-Haul and Local Transport Drivers: Operating smaller trucks, these drivers handle local and short inter-urban routes, often returning home nightly. They also inspect their vehicles and may drive specialized trucks like tow trucks, dump trucks, hydro-vac trucks, or cement mixers.
Bulk Liquid Driver: Transporting substances like fertilizer and fuel, often classified as dangerous goods, requires drivers to hold a Transportation of Dangerous Goods Certificate. Many companies provide this training, typically requiring a minimum of two years of experience and a clean driver's abstract.
Owner Operator: Being an owner operator means you own your truck and provide services to one or more companies. This is typically considered the first step in owning your own trucking business.
Employment Requirements:
Proficiency in English, both written and spoken, for document interpretation and compliance.
Pre-employment drug and alcohol screenings and random testing during employment.
Air Brake endorsement.
Clean criminal record check and driver's abstract.
Highschool Diploma or equivalent.
Education Requirements:
Class 1A Driver's License or the Mandatory Entry-level Training (MELT) with a pre-requisite of a Class 1 Learner Endorsement.
Career Succession:
Progression to supervisory roles or non-driving positions, such as driver trainer, safety officer, or dispatcher, is possible with additional training and experience. Drivers can also advance within driving roles, potentially handling the transport of dangerous goods, with an earning potential exceeding $27.50/hour.
In Bound/Out Bound Freight Coordinator/Crew Dispatcher

Salary:
$47,000 – $84,500 per year
Job Description: Dispatchers play a crucial role in managing the operations of professional drivers who handle Class 1A vehicles for transporting goods across urban, regional, national, and international routes. They are typically employed by transportation companies, manufacturing and distribution firms, moving companies, and employment service agencies. In some cases, the dispatch function may involve multiple roles, such as Fleet Manager, Customer Service Representative, Trip Coordinator, and Driver Manager.
Job Duties:
Utilizing radio and telecommunications equipment to dispatch personnel based on schedules and work orders.
Tracking personnel workloads and locations.
Maintaining records, both electronically and manually, of mileage, fuel consumption, and expenses.
Providing guidance to vehicle operators regarding routes and addressing traffic issues like construction and accidents.
Coordinating the activities of vehicle operators.
Employment Requirements:
Highschool Diploma or equivalent.
Essential Skills:
Effective communication skills.
Keen attention to details.
Proficiency in Microsoft Office applications, including Word, Excel, and Outlook.
Strong organizational abilities.
Also Referred to as Supervisors
Salary: $58,000 – $112,000
Job Description: Supervisors or Managers oversee the activities of workers within the unit group comprising shippers and receivers, dispatchers, and transportation route and crew schedulers.
Job Duties:
Provide leadership and guidance to key departments, including operations, safety training, and compliance.
Effectively plan, organize, and manage the operational logistics of the organization, which includes the establishing work schedules and procedures, addressing work-related challenges, preparing and submitting progress reports, and coordinating activities with other supply-chain units or departments.
Train employees in their job responsibilities, safety protocols, and company policies.
Oversee the execution of fleet maintenance and ensure regulatory compliance.
Stay informed about industry trends.
Employment Requirements:
Previous management experience.
Profound knowledge of the transportation field.
Essential Skills:
Strong organizational, analytical, and problem-solving abilities.
Excellent communication and leadership skills.
A comprehensive understanding of industry regulations and laws.
Proficiency of Microsoft Office.
Emphasis on safety and compliance.
Also referred to as Safety Officers
Salary: $65,000 – $100,000
Job Description: Safety and Compliance Officers in the trucking industry are tasked with ensuring that their company and its drivers adhere to safety regulations. These regulations encompass both the company's internal safety policies and external regulations set by countries, provinces, states, and organizations like the Federal Motor Carrier Safety Administration (FMCSA) in the United States. Safety and Compliance Officers are responsible for recording and managing driver violations and accidents, overseeing new driver orientation, delivering safety training, and providing ongoing education. The specific duties of a Safety and Compliance Officer can vary depending on the company's requirements.
Employment Requirements:
In-depth knowledge of safety regulations applicable in the various jurisdictions where the trucking company operates, often across multiple regions.
Proficiency in using software and training platforms.
Possession of a Class 1 license.
Strong leadership and communication skills.
Presentation skills for educational purposes.
Competency in computer use.
Demonstrated sound judgment, discretion, and the ability to solve problems and analyze data.
Education Requirements:
A Bachelor's Degree in Occupational Safety or an equivalent qualification, such as completion of a Driver Safety Trainer Program.
A minimum of 3-5 years of experience in safety management.
Professional driving experience may be a valuable asset.
Salary: $17.00 – $18.00/hour
Job Description: Dock workers play a vital role in the transportation and logistics industry. They are responsible for the safe and efficient loading and unloading of freight onto trucks and trailers, utilizing a range of equipment, including forklifts, dollies, carts, or manual handling. Dock workers find employment with transportation companies, manufacturing and distribution firms, and moving companies.
Job Duties:
Loading, unloading, and transferring various products and materials.
Operating industrial trucks, tractors, loaders, and other equipment to move materials to and from transportation vehicles, loading docks, and storage areas.
Ensuring the accuracy of all incoming and outgoing freight.
Employment Requirements:
Some secondary school education may be necessary for this role.
Physical strength is required for manual material handlers who deal with heavy materials.
Proficiency as a Vehicle Technician may be relevant for certain positions.
Often referred to as Motor Vehicle Mechanics
Salary: $30.00 – $42.00 per hour
Job Description: This role primarily involves the maintenance, repair, and diagnosis of trucks, trailers, forklifts, and their associated hydraulic and electrical systems. It also encompasses disassembling and reassembling components of heavy equipment. Additional responsibilities may include equipment cleaning and maintenance, interpreting work orders and manuals, and preparing service reports.
Job Duties:
Repairing diesel engines, air brakes, powertrain, transmissions, fuel systems, cooling systems, electrical components, steering, suspension systems, and undertaking welding tasks.
Performing preventive maintenance, including oil changes and grease jobs.
Employment Requirements:
Strong interpersonal, written, and communication skills.
Depending on the specific role, a Class 2b license with an air brake endorsement may be required.
Essential Skills:
Prior mechanical experience is often preferred.
A trade certificate and a Class 5 driver's license may also be necessary for certain positions.
Also known as Office Administrators
Salary: $49,000 – $54,000 per year
Job Description: The office administrator takes charge of overseeing and harmonizing office administrative processes. This entails reviewing, assessing, and implementing new administrative procedures, establishing work priorities, ensuring adherence to procedures, and meeting deadlines. The role also involves compiling data and creating periodic and specialized reports, manuals, and correspondence.
Job Duties:
Supervising and coordinating office administrative procedures.
Prioritizing work and ensuring procedure compliance.
Utilizing computer equipment for various tasks.
Managing mail handling procedures.
Handling phone calls and transferring them as necessary.
Employment Requirements:
Highschool Diploma or equivalent.
Essential Skills:
Exceptional interpersonal skills.
The ability to function effectively in a team environment.
Keen attention to detail.
Proficiency in computer skills, particularly Microsoft Word and Excel.
Strong organizational and time management abilities.
Finding the Right Fit
8 Things to Look for in a Company
When searching for a trucking company to work for, it's essential to evaluate certain criteria that can significantly impact your experience. Here are eight important aspects to consider:
1. Recruitment and Retention:
A strong recruitment and retention strategy is vital for the longevity of trucking companies. Look for employers with inclusive recruitment practices and measures to support accommodation and return to work. High retention rates signal an engaging workplace with mentorship opportunities and career growth possibilities.
2. Employee Engagement & Workplace Culture:
A diverse workforce should be matched with an inclusive workplace culture. Open communication, starting from management, is key. Employees should feel encouraged to discuss issues and challenges. Workplace initiatives like employee appreciation weeks, potlucks, and cultural celebrations can foster a respectful and communicative atmosphere.
3. Compensation & Total Rewards:
Your hard work deserves fair compensation. Recognize that the trucking industry has witnessed compensation increases, with a shift from mileage pay to hourly pay for younger workers. Consider your earning potential when evaluating career opportunities.
4. Workplace Wellness & Mental Health:
Mental health is crucial for work performance. Seek employers with wellness policies, work-life balance support, employee assistance programs, and mental health training to ensure your well-being in a safety-sensitive industry like trucking.
5. Workplace Diversity & Inclusion:
Companies with a commitment to diversity and inclusion offer a more enriching work environment. Look for employers that value people of all backgrounds, including women, indigenous peoples, individuals with disabilities, and other visible minorities.
6. Training & Skills Development:
Prioritize your personal and career growth. Select employers that provide opportunities for skill development and on-the-job learning.

7. Corporate Citizenship & Environment:
Responsible trucking companies should operate ethically, benefiting society while maintaining a balance between economic and environmental concerns. Look for companies actively involved in initiatives to reduce their Greenhouse Gas Emissions.
8. HR Innovation:
Seek companies that combine all these elements. Join a team committed to safety, excellence, diversity, and inclusion. Embrace innovation to contribute to a better world through your trucking career.
Do you need a solution to reduce your work place injuries & illnesses?
Trucking Industry Certificate of Recognition
Are you looking to provide your employees with new skills? Is having a safe and employee-friendly workplace part of your company culture? The Trucking Industry Certificate of Recognition (CoR) is an industry-evaluated health & safety program recognized by the WCB and Work Safe Saskatchewan.
Driver of the Month
Tyson Hillman | December 2023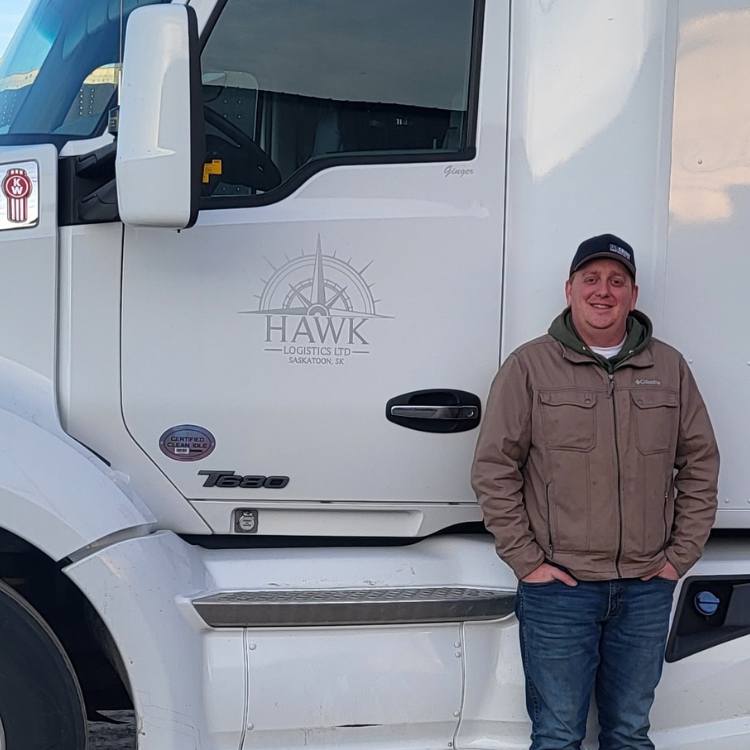 Congratulations to Tyson Hillman with Hawk Logistics Ltd. who is the STA Professional Driver of the Month for December 2023!
Hawk Logistics Ltd.