Albert (Bert) Bruce Barry Announced as Recipient of the STA Omnitracs Service To Industry Award
October 29, 2021
The STA/Omnitracs Service to Industry Award recognizes leaders who have made exceptional contributions to the trucking industry in Saskatchewan. It awarded to individuals who have spent countless decades in the industry and assisted in propelling Saskatchewan's trucking industry forward.
Albert Barry, 2020/21 STA Omnitracs Service to Industry Award Recipient
We are pleased to announce Albert Bruce Barry as the 2020/2021 recipient of the Service to Industry Award. Albert joins past recipients Les Skingle, Chester Day, and Erwen Siemens.
Albert Bruce Barry OR Bert was born with trucking in his blood and had a professional career that lasted nearly 70 years, but those who knew him well know Bert never stopped dedicating his life to the trucking industry in Saskatchewan. As an owner, driver, dispatcher, office manager, mechanic, and teacher, Bert embodied the values and ethics that are synonymous with the trucking industry: hard work, dedication, respect, honesty, integrity, and service to others.
A Worthy Career in Trucking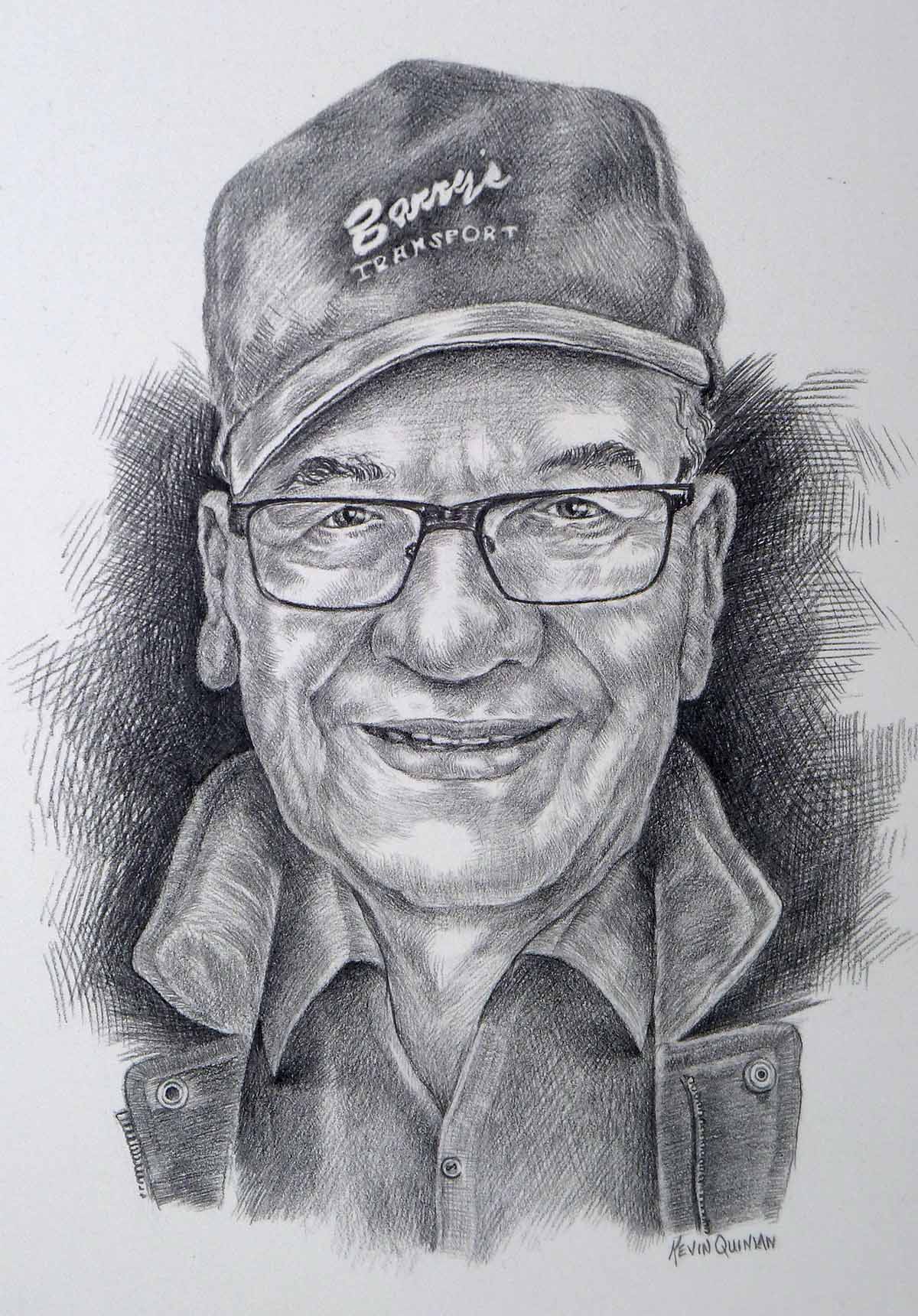 Bert's career in hauling goods started in Regina where he bought a bicycle and began hauling groceries for the local grocery store at the age of 8. He added a large basket to the front of the bicycle, and so began his lifelong quest of finding ways to maximize payload and do more.
Shortly after that and well before he was old enough to legally drive (likely 9 and 10), he hauled gas in steel drums with a single axle chevy truck. To unload the large drums Bert would wedge himself between the cab and the drum and use his legs to offload the product. Because of his small statute, he also devised a loading and unloading scheme involving planks attached to the back of the truck.
Bert got "pinched" for his first ticket for underage driving when he was running double with his father (John) hauling gas and was fined $7.
He also recalls making 2 1/ cents a mile in 1948 and found that he could make more trucking than his peers who worked elsewhere.
In 1953, Bert went into business for himself. He had a White power unit which pulled for Soo Freightlines (later Motorways). He remained with Soo until 1962, when he bought Beechy Transport in Saskatoon, and began hauling general freight, merchandise and groceries serving the territory southwest of Saskatoon.
During this time, construction started on the Gardiner Dam, and Bert played an integral role in hauling materials for the large project. This included hauling whatever was needed for the project between Saskatoon and the dam site, but it was also much more. He was called up to move 100-foot bridge beams and heavy equipment through the mud and dirt. Bert could do anything with a truck and trailer, and he played an integral role in completing the project.
In 1974, work on the Gardiner Dam was finished and Bert expanded his business into Alberta, bought Andy's Transport and changed his name to Barry's Transport. He also diversified his business and began hauling fertilizer and grain. He grew his company and at one point he had over 30 trucks and 90 trailers.
In the late 1970's and early 1980's he sold out, only to buy the business back in 1986 from the bank. Barry's Transport (1986) Ltd. continues today specializing in the hauling of aggregates throughout Saskatchewan.
The business is now operated by his sons, Doug and Gord.
Embracing Change
Bert experienced several shifts in the trucking industry over his years as the industry, equipment, and technology changed. Bert was innovative and intelligent and often adapted and found new ways of doing things. For example, when the industry was changing from gas powered trucks to diesel powered trucks, Bert embraced the change. Because there were no diesel mechanics at the time, he had to learn the ins and outs of the diesel motor and perform whatever repairs he could on his own to keep his trucks going.
As a pioneer, he created a standard for doing things the right way. He was also an early adopter of B-trains and Super-B train combinations through the 80s and 90s when the loads began getting bigger and bigger and he led the way with that aspect of change in the province. He was the first to haul 60-foot steel on a 26' B-train.
Bert succeeded where others failed.
Bert also boasted that in the 1970's he was one of the first wheeled vehicles to go to Key Lake, Saskatchewan about 90 miles west of Wollaston Lake, and hauled across various ice roads in Northern Saskatchewan.
Community Leadership
Outside of trucking, Bert and him family were community champions. Bert, his family, and business were avid supporters and founding members of what is now known as Inclusion Saskatchewan.
Bert had a handicapped son, Russ, who suffered brain damage at a young age and the work that Bert and his family did for the organization and the community of people with physical, mental, and intellectual disabilities and their families was profound.
Bert was a staunch believer in family values and made a point of being available to participate in day-to-day family life when he could.
He was so proud of all his children and his many grandchildren. He involved his family in all aspects of the business and made his employees part of the family as well.
A Legacy of Service
On August 16, 2020, at the age of 87, Albert Bruce Barry passed away leaving behind a legacy that will live on in Saskatchewan's trucking history.
Bert's ingenuity, competitiveness and even sometimes stubbornness helped him survive a life well lived in Saskatchewan's trucking industry.
Bert regularly boasted about being able to work with his grandchildren in the office and working on the open road with his grandsons, many of whom also have their Class 1 license and have worked in the industry.
The business is now carried on by his sons, Doug and Gord.


Congratulations to Bert Barry – the 2020/2021 STA Omnitracs Service to Industry Award Recipient.
STA Sponsorship and Advertising
Get Involved!
Sponsorship Ignites Events and Programs. Join the Momentum and Invest!