Inspiring Tomorrow's Trucking Titans: A High School Trucking Event
Oct 23, 2023
The most recent trucking event co-hosted by the Saskatchewan Trucking Association and the Regina District Industry Education Council was an eye-opening and educational experience for students from various school districts in Southern Saskatchewan. It was a full day for everyone as it was held at several locations and featured various activities and exhibits, making it an educational and engaging day for high school attendees. Our presenters and hosts were passionate and engaging and provided students with valuable insights into the world of trucking and transportation.
Some of the many highlights of the day were a morning of trying out a VR simulator to experience a day in the life of a driver, one-on-one conversations with carriers' owners about employment expectations and opportunities, and in cab interactions with a commercial driver trainer and tractor-trailer combo.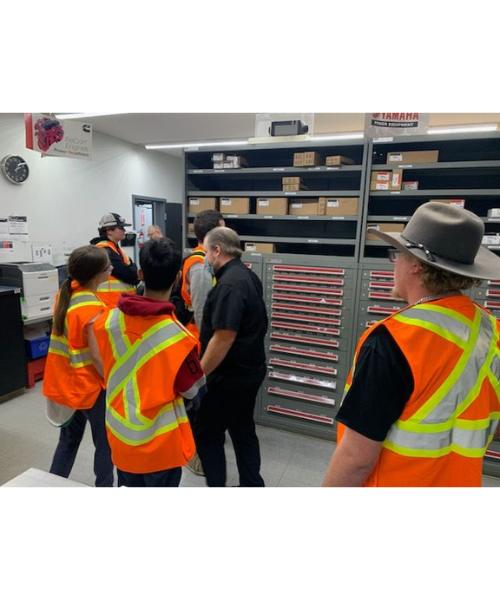 After lunch, we first took a tour of a local trucking company providing real-world insights into the trucking industry, dispelling some common myths, and showcasing the significance of trucking in our daily lives. There were very interesting presentations on telematics showing forward driving video close calls and a look at the inner workings of the flow of freight in a fast-paced warehouse/dock.
Our final stop of the day was a tour of a local OEM repair shop. We received informative presentations from industry experts on parts and service departments and had a tour of each. These sessions were eye-opening and allowed us to gain a better understanding of the different fields making it an educational and engaging visit for the high school attendees.
In a nutshell, it was a good day. The engagement from the students and the councillors was contagious and the presenters were more than happy to share their experience and their passion for the industry. I feel that the students learned that there is a lot more to the trucking industry than steering equipment down the road, it is an industry to learn skills, gain real-world experience, and work toward a valuable career. We hope we have the opportunity to do this again next year.
Empowering Women with Transportation Industry Skills
Women Shifting Gears
The STA, YWCA Saskatoon and Saskatchewan Ministry of Immigration and Career Training have launched a pilot-program to encourage more woman to participate in the trucking industry.