Driver of the Month
Adam McMartin | February 2022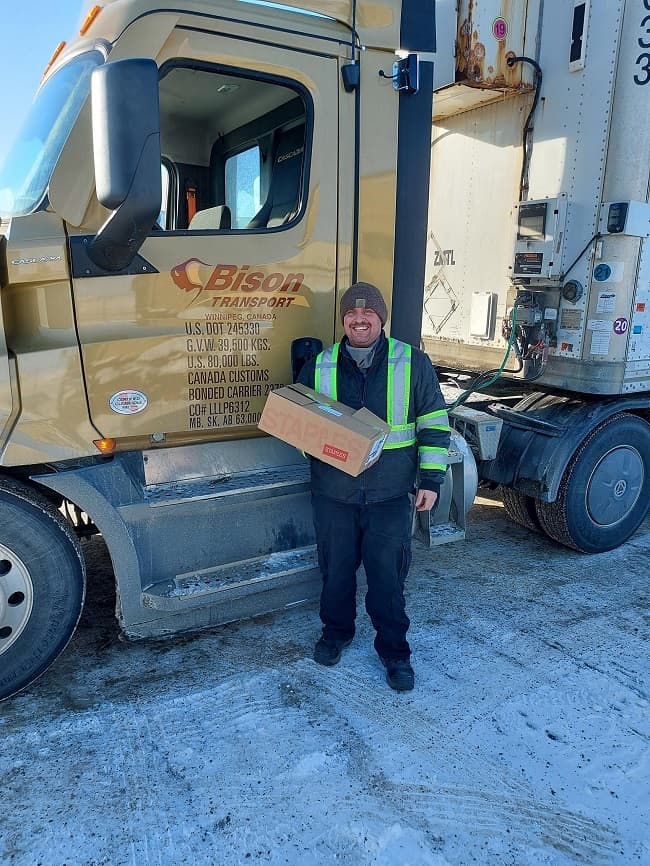 Bison Transport
Congratulations to Adam McMartin with Bison Transport who is the STA Professional Driver of the month for February!
Adam McMartin has been a driver with Bison since 2014. He currently is assigned to Bison's Saskatoon City/Regional Fleet servicing Saskatoon and area customers. He also holds a dual role as Bison's Saskatoon Yard Supervisor. With no Bison office staff in Saskatoon, his role as yard supervisor at this yard is vital to Bison's operations. In the summer of 2019, Bison was actively looking to fill a vacant yard supervisor role for the Saskatoon Yard. Adam, a Saskatoon-based LCV driver stepped up and volunteered to leave pikes and take on this joint role of being the Saskatoon Yard Supervisor and City / Regional driver.
Since this time, under Adam's steady and reliable guidance the Saskatoon Yard has never been better. He has brought stability, dependability, and a calming influence to this role. The Saskatoon morale has not been higher as countless drivers have approached myself and other leaders within the business and raved about his performance as the Yard Supervisor. Adam's leadership in Saskatoon , especially through this pandemic, has been appreciated. Besides his time in the truck servicing our customers, Adam has maintained our Saskatoon Yard, including ensuring regular cleaning/sanitizing of our office and drivers lounge.
Adam's yard duties also include, when not driving, maintaining yard conditions (sanding, grading, snow removal, etc) ; maintaining safety standards ( conducting OH&S inspection, ensuring ppe used and safe practices followed, monitoring equipment issues, etc...) as well as many many other duties too numerous to list. Adam regularly makes himself available to the Saskatoon based drivers. He often takes calls on his time off in evening or on weekends when drivers call asking him questions (where to find something, how to do something , etc).
Adam has maintained his LCV certification and regularly assists our LCV Drivers in moving, splitting, and building their LCV sets. He is always assisting others, not just because of his role, but because of the type of driver /person, he is. Adam regularly seeks to improve. He has regularly requested online Bison courses, as well as outside courses taken (First Aid, Forklift Operations, Telehandler Operation). He regularly assists other drivers in their use of changing technology required in our business.
He also has trained and developed into a Bison Driver Trainer and mentor for new hires and other road test requirements in Saskatoon. Under Adam's leadership within the yard, and also as one of our most trusted and reliable drivers, Bison has seen a growth in our Saskatoon yard and operational footprint. He has been recognized often with internal Bison awards and recognition but its time he be recognized by our industry at large. Adam personifies what being a professional and safe driver should be.
11 to 15 Years Years of Service
Special Skills: LCV Certified, First Aid Certified, Forklift and Telehandler Certified
The Professional Truck Driver of the Month award has been established to recognize the men and women behind the wheel that make our industry great. We want to thank them for all the work and time they put on the roads for us!
Driver of the month receives
Certificate of Recognition
$25 Prepaid VISA card
SGI Canada and STA promo items
Complimentary copy of the Western Canada Highway News
Recent Drivers of the Month