Driver of the Month
Sukhpal Gill | May 2022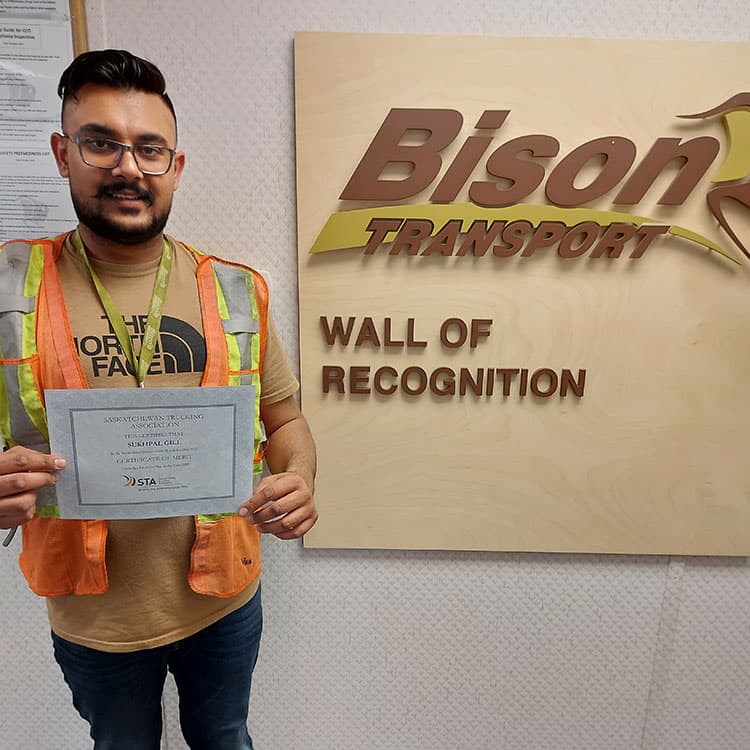 Bison Transport
Congratulations to Sukhpal "Sukhi" Gill with Bison Transport who is the STA Professional Driver of the Month for the month of May!
Sukhpal "Sukhi" Gill is a Bison City and Regional Driver who has been with Bison for more than 2 years. He had started with Bison as an Owner Operator just a few weeks before the pandemic hit sending the Trucking Industry into unchartered waters. There is no secret of the many challenges faced by the men and woman truck drivers that the pandemic caused. Uncertain and unpredictable planning as well as fears of the unknown health threats caused by the pandemic made it quite difficult for our drivers. The trucking industry however raised above all of this and provided a steady and reliable service to our customers. Sukhi exemplifies this. Sukhpal has, throughout the pandemic and beyond, provided Bison Transport and our customers with a steady, reliable, and professional service. Often complimentary comments regarding his services are shared with Bison by our customers regarding Sukhi.
He is one of our most reliable drivers and often will change his shifts to accommodate challenges and needs within our business. His steady and reliable service, day in and day out, is greatly appreciated. When asked about Suhki's performance, his Fleet Manager added that: Sukhpal has worked for Bison since 2020 and had played an important role in city operations. He takes pride in all the work that he does and holds great relationships with all customers that he delivers to every day. His feedback on customers' needs has also helped our company ensure that we provide the best service in the industry. Sukhpal supports his city team and often works extra shifts to help make sure customers get their deliveries on time! He holds an impeccable safety record with no accidents to his name.
2 to 5 Years Years of Service
The Professional Truck Driver of the Month award has been established to recognize the men and women behind the wheel that make our industry great. We want to thank them for all the work and time they put on the roads for us!
Driver of the month receives
Certificate of Recognition
$25 Prepaid VISA card
SGI Canada and STA promo items
Complimentary copy of the Western Canada Highway News
Recent Drivers of the Month